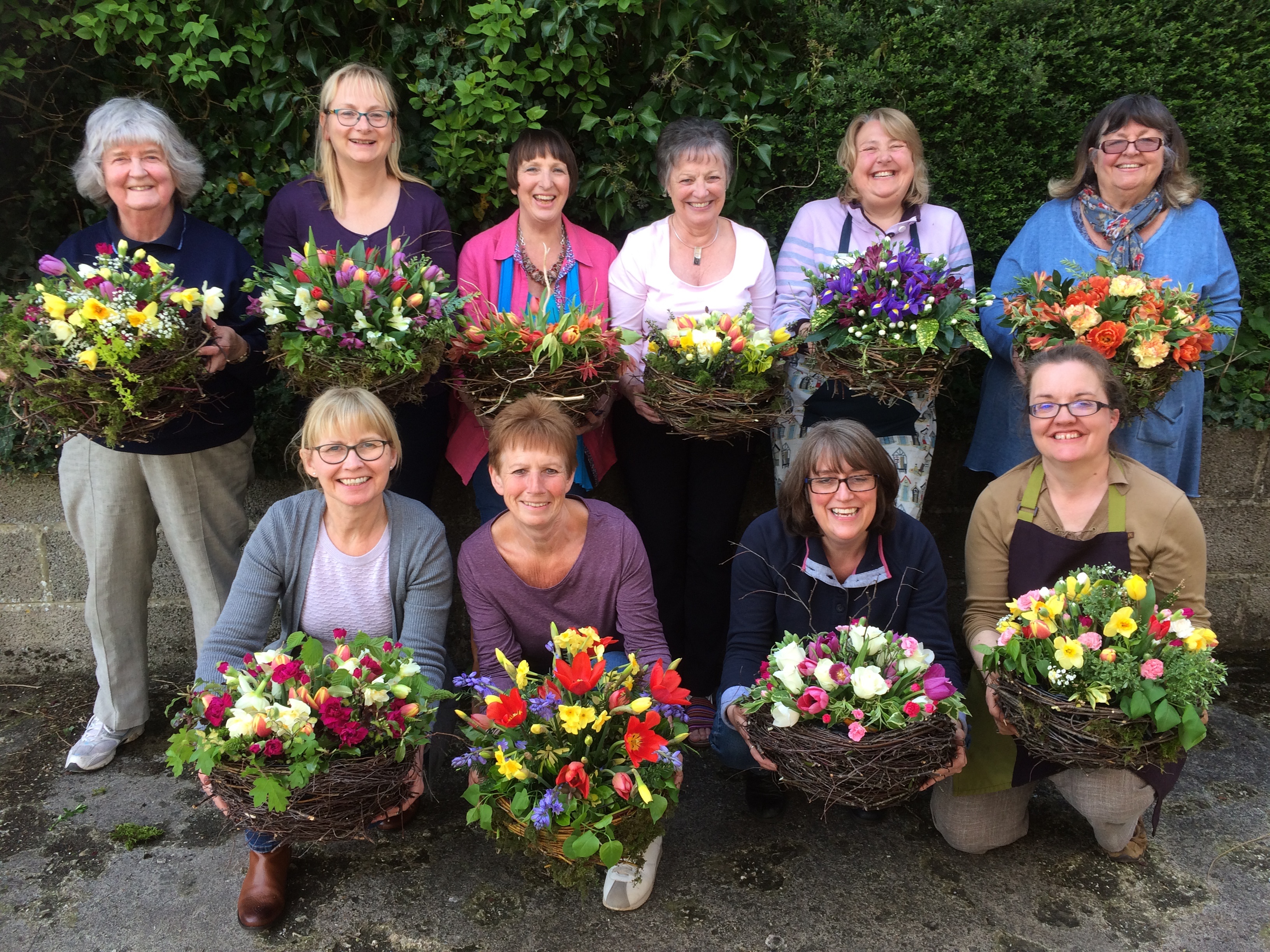 Here are some amazing birds' nests we made using twigs and other natural foraged materials. Great fun and a very proud day!
Picture: Demonstrating at The Royal Horticultural Society, RHS Rosemoor, Torrington, Devon
All workshops (listed below) are always taught by me, there are no substitutes. I am a very friendly, patient and caring tutor with a huge passion for fun, flowers and floral design. Oh, and just in case you are wondering, I am a fully qualified tutor, have won numerous awards for my teaching and have over 30 years experience.

I guarantee you will go home from your workshop with not only a design that you are really proud of, but one that you are happy to show off to your family and friends. Very importantly, you will have gained the confidence and experience to be able to repeat it again on your own.


Workshops are taught using fresh flowers and vary in size according to the design being made. You will always receive individual attention. Tables are provided and you will have plenty of room to work. All adults are very welcome. Take a look at what we've been up to recently here there are lots of pictures of past workshops to have a browse through.

I frequently add extra workshops, so if you would like to be the first to know, please contact me and I will add you to my newsletter list.

Fees are per person and are payable on booking, either by email or phone. They include unlimited refreshments and the basics to help you make your design. An easy-to-follow list showing things you need to bring to your workshop will be issued a couple of weeks before you attend. And should you wish to use it, a pop-up shop with floristry goods is available at each session.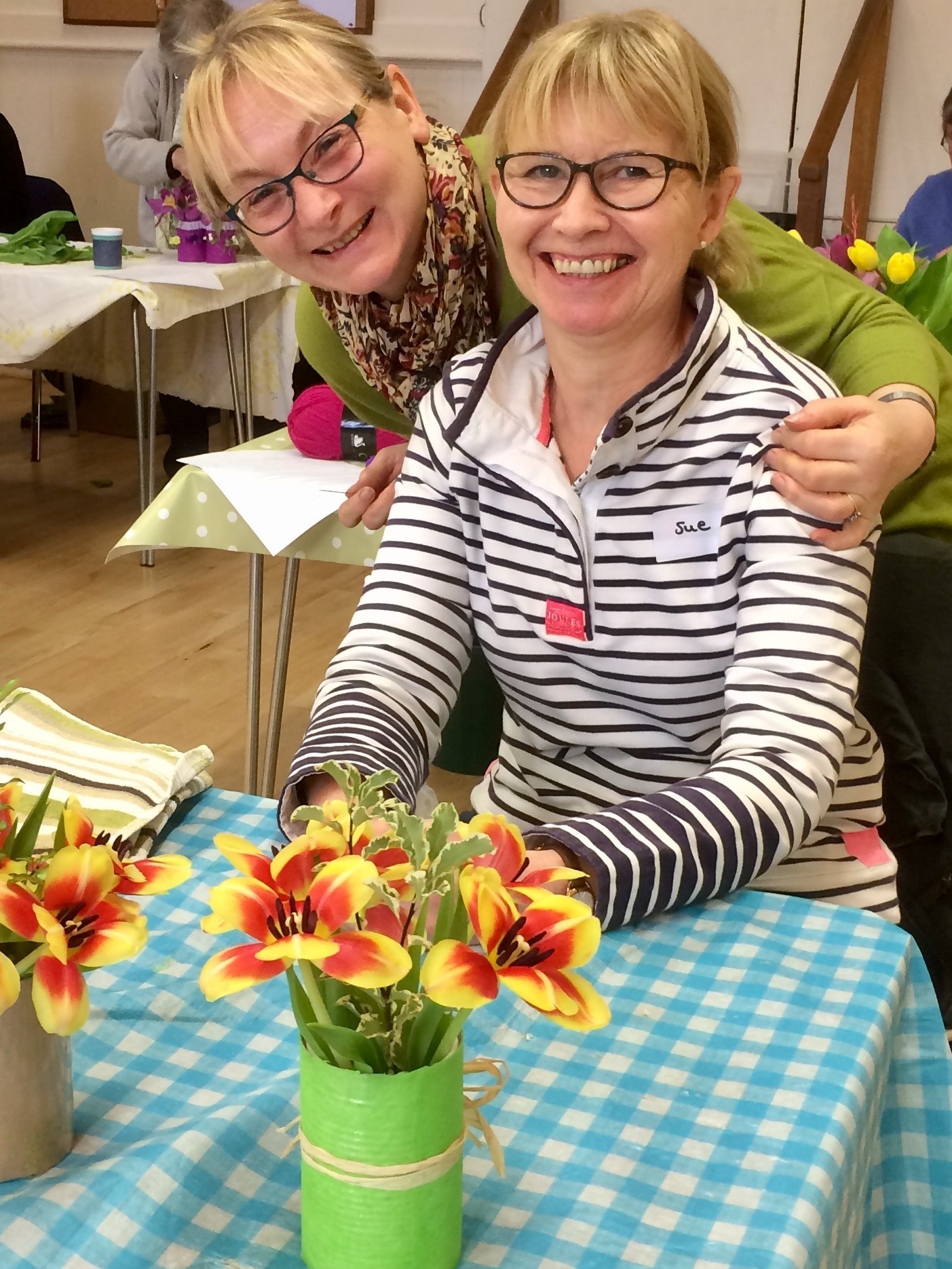 Here's a thought for you. Did you know that flowers are like friends? There is no doubt they really do brighten up your day. So bearing that in mind, why don't you come along to a workshop this year and join in the fun?

Always popular, they are not only a great way to meet like-minded people, but also give you the chance to learn a relaxing and creative skill. You will be surprised at what you can achieve, even if you have never done anything like this before.

If you can't make any of my workshops, remember I can always run one for you. Many ladies groups do this at a venue of their choice - they can even be held from your home if you prefer. Private lessons are also available.

And of course, not forgetting businesses - workshops are great team-building events which can be run at any location.

Please don't be shy about coming alone, as plenty do!

All workshops below will be held at Combe St Nicholas Village Hall, Combe St Nicholas, near Chard, Somerset, TA20 3NY
They are back! Strictly following all Government guidelines, I'm delighted to announce that teaching can now recommence.
Ravishing Roses

Monday 19th October 2020
10am-12.30pm £22
An elegant long and low design you can easily adapt for every season of the year including Christmas. This arrangement made using the roses we all love will look fabulous anywhere in your home - and will definitely be the envy of your friends. It's gorgeous!
2020 Festive workshops:
Christmas Chic

Saturday 7th November 2020
10am-12.30pm £25
A very classy festive gift - or just for you? This unique design is recyclable, biodegradable… and oh so stylish. Add flowers, foliage - even a surprise little treat - and you really won't want to part with it. Don't miss this one, it's FAB-U-LOUS!
Enchanting Advent
Monday 23rd November 2020
10am-12.30pm £25
Christmas is coming! Learn how to make a beautiful, long-lasting advent design using four traditional candles. This absolutely beautiful festive arrangement cannot fail to be admired by everyone in your home up to and including the big day.
Traditional Wreath
Saturday 5th December 2020
10am-12.30pm £25
Tis' the season to be jolly! Create a door wreath that simply oozes the aromas of Christmas. Covered with winter foliage, yours can be completely natural or have added sparkle. Finished with a fabulous bow, it'll look amazing… and smell divine.
Victorian Christmas Berry Pot
Monday 7th December 2020
10am-12.30pm £25
Here's a traditional design ideal for anywhere in your home - or as a gift. Bursting joyously from the twine-bound container you'll make, this Christmas cornucopia of pine cones, faux berries, a few flowers and evergreen foliage will be loved by all.
Let It Snow!
Saturday 12th December 2020
10am-12.30pm £25
Put magic in the air making a trio of fabulously fresh Scandinavian designs. Bringing the outside in is key to creating a Nordic feel for Christmas - so think sparkling twigs, faux berries and snow, a few flowers and frosty greenery. Such fun!
Winter Wonderland
Monday 14th December 2020
10am-12.30pm £25
A low, long-lasting sophisticated arrangement of stunning whites and greens mixed with seasonal flowers and foliage. Embellished with snow covered twigs, pine cones and accessories, it's sure to delight everyone at your Christmas Day table.
To book email ashvilledesign@outlook.com or call me on 07906 259 683


Cancellation policy:
All fees are payable on booking and can only be refunded or transferred to another workshop if either you or I can find another student to take your place. In the extremely unlikely event that I have to cancel, you will either receive a refund or the option to transfer to another workshop of your choice.

A few student testimonials follow - I'm so proud of these:
"These workshops are always so enjoyable and have the added bonus of meeting new people with a similar interest. Instructions are very clear and easy to follow and there is always encouragement and help when needed. I have really surprised myself with the beautiful arrangements I have made and am really looking forward to the next one."
"I never believed I'd be able to do something like this, I love what I've made. My daughter and grand-daughter were really pleased with theirs too, we'll be coming again."
"I really enjoyed myself. I was a bit wary having not done anything like this before and concerned because I'm not arty or creative at all. However - I impressed myself and was absolutely delighted with what I made. Everyone was very friendly, everything was easy to follow, even for a complete beginner. I'm definitely coming again, it was great."