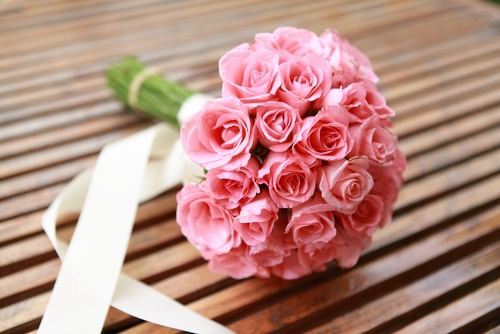 Getting married at home ... or overseas?

Have you thought about using top-quality artificial flowers accredited by the British Florist Association for your bouquet, corsages, button-holes, table decorations and other wedding flowers? They are the perfect solution for a wedding at home or abroad.

Artificial flowers, like those shown in the bouquet of pink roses, are so realistic these days you can hardly tell the difference.

Apart from being cost-effective, lightweight and durable, if you're getting married abroad, you can just pop them in your hand luggage and take them with you. And when your special day is over - whether it's overseas or at home - you'll always have an everlasting memory to keep.

So, rather than rely on an overseas florist who you have never met - who may not be able to supply the flowers you really want, might make changes you don't like and will more than likely charge you the earth - why not have your wedding flowers tailor-made with artificial flowers before you go? Then all you have to do is take them with you.

Whether you are getting married at home or overseas, your flowers can all be ready way in advance of your wedding day.

Think about it. It's one less worry for the most important day in your life ... why not
contact me now for a free consultation?